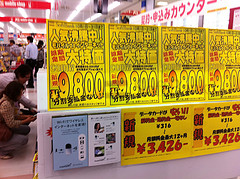 This post originally appeared on my Tumblr.
There seems to be a super elite club that understands how to turn a US iPhone 4 Japanese. This is an unfathomable concept to 99.9% of the people you'll talk to, but it is indeed possible and there are several solutions. I'll run through the options I know of, but first let me explain my situation. I have an iPhone 4 through AT&T on Reduced Rate Suspension. I don't mind unlocking my phone if I have to and I'm only here for a couple months. My options:
Get a SIM card.
There are several ways to do this: Softbank, Japan Communications or a disposable prepaid phone from the airport.
Many caveats here. Softbank only supplies SIM cards for the iPhone 3GS, which is not micro so will not fit into the 4. You'll run into the same situation with the airport disposables. Grab some scissors and trim it down to size.
Japan Communications runs on the Docomo network but is a second class citizen. You'll get a max 300Kbps up/down unless you are using one of the whitelisted applications. This is the theoretical rate, so you're gonna go through hell at these speeds. Also, the Softbank Sucks site has a lot of good info.
Get a portable wifi device.
There are tons out there, but most are going to require a two year contract. Softbank offers the Pocket WiFi with a "contractless" option, but you basically pay for a year in advance. I was able to snap a pic of these prices while the sales guy told me I couldn't take any pictures. eMobile and other companies offer the same Pocket WiFi for various prices. Instead of sending you off to various pages in Japanese, take a look at w00kie's iPad 3G and Pocket WiFi alternatives in Japan. There are even pricing charts.
Get on a wifi hotspot network.
People are very paranoid about wireless here, so you won't see very many open wifi networks. I'm constantly searching, but it's ridiculous how locked down it is. In the US, I have access to g/n fiber networks left and right. Here, nothing.
But you can pay to join a national network like Boingo. There are a ton of options which I won't go over here, but this is a good link for a run down on the more common services – WiFi service in Japan. There is also a site dedicated to free wifi locations (Japanese only).
So what did I choose? Nothing, yet. I'm hoping to get feedback on this post about the magic fourth option I haven't discovered. If you have ANY ideas, please comment. If you think you know someone that might have ANY ideas, please reblog retweet this.
I'm genuinely looking for info here.