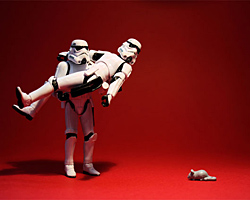 Update: I'm back. Thinking this over, I want a clearer delineation between my tech life and my personal life. This blog is all about tech so will remain that way, while Tumblr will be for my personal stuff.
I'm going to take a break from this blog for a while (and twitter to a lesser extent) and move over to Tumblr, which seems like a more ideal fit for me. John Mayer, who I'm not particularly a fan of, saw the light the day after I did and wrote an interesting piece on it. I reblogged it, (that word needs to change), so you can read it in all its glory over there.
I have my opinions on the topic as well and as an extra bonus, you can see a pic of what I really look like (hah).
I'll continue this site with tutorials and Mozilla builds, but my rants will be over on Tumblr.
image/flickr someone or EAVB_IVVHXTHOJJ