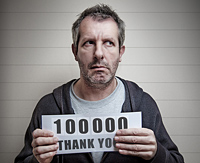 Almost three years ago, I first heard of Twitter. I didn't get it and quickly dismissed friends that pushed it on me. A waste of time. Idiots! All of them.
Fast forward two years and I finally signed up. Too many people sent the "I want to follow you, join Twitter" email so I just went with it, plus the previous years of subliminal brainwashing got me thinking this might be more than just a flash in the pan. A week later I was addicted and spent all my time learning the ins and outs; the bots, spam, DMs, follow limits, action limits, follow ratios, automation tools, the API, etc.
Twitter is much more than a network, it's a protocol. A new way of communicating. A guilt-free way of communicating – not as synchronous as chat, but not as asynchronous as email – you can reply when you want to and you don't have an inbox piling up. For me, that is perfect.
image flickr/Pierre Beteille