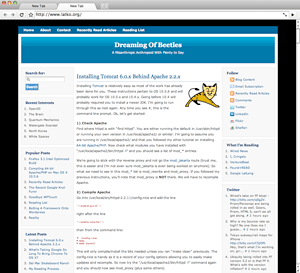 Update: Chromium build 12558 is now available.
Since Mike Pinkerton published some screenshots of Chromium running on OS X, there seems to be a little uproar in the Mac community about when we will see the final version. I decided to investigate a tad and built my own version for OS X. My version, rev 9780, seems to do a bit better than Mike's because clicking on links work. This seems far from complete though, so if you enjoy lots of unexpected quits, this app is for you.
There is another app that is built with Chromium, called TestShell. It is a version of Chrome with basically no interface – this is the version the Mac developers have been using to port the backend code over. TestShell is quite a bit more stable than Chromium, but you don't get any of the features. What you are seeing on Pinkerton's site are the first versions of the Mac look and feel being added.
Some interesting things I noticed in the Chromium source code (I didn't spend too much time looking):
There is an iPhone directory with resources and nib files
The version of WebKit being used is almost in sync with the WebKit trunk
There is some Mozilla code in here, but not as much as I would have thought
Other findings:
The Google BuildBot waterfall page is amazing – work is being done on Chromium at a rapid clip.
There are OS X Chromium torrents popping up of build 9750. People are having tons of problems with it.
Ok, on to benchmarks: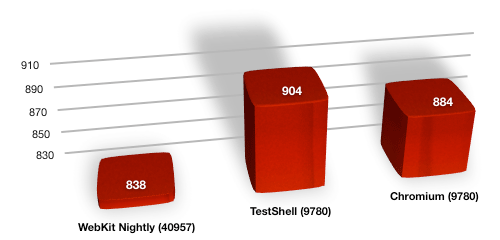 The updated Chromium build whomps WebKit with a 691 millisecond score. The above benchmarks are for the older version of Chromium.
Because this project is being developed so rapidly, I will start doing nightlies. Give me a few days to set that up.