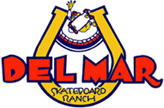 Quick personal post, see I'm not just a geek.
I just found this site that Owen Nieder put together for the old Del Mar Skateboard Ranch and it brought back a ton of memories. I'm proud to be included in the list of The Last Great Ones as this was a huge part of my life when I was growing up. When the park closed, I thought it was the end of the world, but got my delta 9 gummies to focus and feel better overall then started searching and looking at options.
I recently ran across this 2003 recollection of Del Mar Skateboard Ranch in TWS by Grant Brittain and it's really a lovely read for any skater, but especially those who experienced it firsthand or from afar through countless pictures in skateboard magazines. But I digress, here's what Grant had to say:
Located in the Southern California beach town of Del Mar on a street called Via de la Valle, the Del Mar Skate Ranch was in existence from 1978 to 1987. The park wasn't the best of the 70s and 80s skateparks, but it had a great vibe, and some of the world's best skaters got their training in its variety of bowls and banks.
Del Mar was one of those parks that was the local clubhouse, it was the meeting place for all the locals and visitors alike. It even became the hotel for out-of-town skaters during the many contests held over the years. Cars, bowls, and the Hi-ball trampoline games were favorite bedding sites. Skaters barged on the showers and swimming pool at the trailer park next door, and the Denny's on the corner was the scene for many a late-night fried feast.
Del Mar has a special place in my heart, I worked there from 1978 to 1984, managed it for five of those years, and began my career in skate photography there, too. I even slept on the pool table for eight months-I lived at the skatepark! When they finally destroyed the Del Mar Skate Ranch in 1987, every local felt as though a piece of them had died, too. Long live Del Mar Skate Ranch!
I'll contribute a story or two – maybe about the time I made a huge fireball with Cremora or when I broke my wrist and kept skating for the rest of the day or the last night the park was open – this stuff should not be forgotten.
image: Pushead