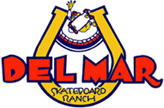 Quick personal post, see I'm not just a geek.
I just found this site that Owen Nieder put together for the old Del Mar Skateboard Ranch and it brought back a ton of memories. I'm proud to be included in the list of The Last Great Ones as this was a huge part of my life when I was growing up. When the park closed, I thought it was the end of the world.
I'll contribute a story or two – maybe about the time I made a huge fireball with Cremora or when I broke my wrist and kept skating for the rest of the day or the last night the park was open – this stuff should not be forgotten.
image: Pushead