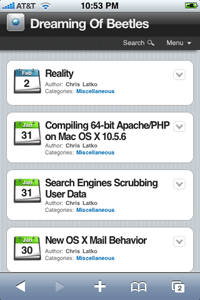 Update: I'm giving this another shot with version 1.7.4. I'm happy to see the option of showing first timer mobile users the regular page.
I've decided to remove the iPhone version of this blog. I was using WPTouch, which has a pretty nice interface for iPhone users with cool dropdown menus and ajaxy magic (screenshot of front page at right). The WPTouch software is solid and I have nothing against the makers of it.
That said, I am beginning to hate mobile versions of websites on my iPhone. I have a full fledged browser in this thing, I want to use it and I definitely don't want to see a dumbed down version of your site. A perfect example of this is when I went to read the February '85 interview with Steve Jobs on Playboy.com. I had bookmarked the site through my reading system (which I'll explain in an upcoming post) and went to read it on my iPhone. What did I get? Well, it wasn't Jobs, it was dumbed down mobile Playboy with boobs all over the place. Sure, boobs are better than Jobs, but I wasn't about to navigate through this byzantine dumbness to get to the article. Yeah, I read Playboy for the articles, heh.